Unlike breast augmentation, breast reduction is a cosmetic surgery procedure that reduces the volume of the breasts.
The intervention includes:
removal of excess mammary gland and excess skin
repositioning of the areola and nipple
remodeling of the residual mammary gland.
This operation requires an inverted T scar.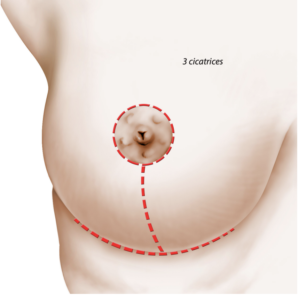 The length of the horizontal scar in the submammary fold depends on the initial volume of your breasts. The vertical scar is still present.
A mammaplasty for hypertrophy can be performed from the end of growth.
A subsequent pregnancy is possible but it is advisable to wait until the end of the pregnancies before having the operation.
Breastfeeding is as often possible after mammaplasty. However, this cannot be promised in all cases. It is necessary to mention the risk of an impossibility to breastfeed after certain mammaplasties for hypertrophy.