Augmentation and remodeling of cheekbones with hyaluronic acid
Cheek augmentation is a cosmetic cheek surgery procedure that plumps up the cheekbones and beautifies them. One of the first signs of facial aging is the loss of volume under the eyes and in the central area of the face. This loss of volume can make you look tired.
Cheekbone augmentation with hyaluronic acid helps to harmonize your face by balancing the volumes of the different compartments of the face.
The effect obtained is natural and contributes to the balance of your face by seeking above all a "healthy glow" effect. Some people seek to obtain a prominent projection of the cheek.
This information sheet was written by Dr ABBOU who is a plastic surgeon in Paris.
Before and after cheekbone augmentation photos
What is cheekbone augmentation ?
It is possible to augment the cheekbones by various medical and surgical methods. Aesthetic medicine (fillers) allows for better definition of the facial contour.
The injection of hyaluronic acid into the cheekbones restores the volume of the face.
It is possible to increase the volume of the cheeks in a natural way thanks to the injection of hyaluronic acid in the cheeks.
Other patients wish to obtain prominent cheekbones, it is all a question of the quantity of product injected.
Here are the different techniques to increase the cheekbones:
Hyaluronic acid injections: a simple and reliable treatment to be repeated every 6 months or so. This technique makes it possible to increase the cheekbones without surgery.

Cheekbone lipofilling: reinjection of fat into the cheekbones : definitive result

The placement of cheekbone implants: permanent result.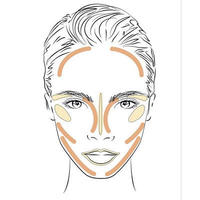 What are the objectives?
The goals of cheekbone augmentation are:
Beautify the face

rejuvenate the face

Improve the proportions of the face
Who is it for ?
Cheekbone augmentation is for all patients who wish to increase the volume of their cheekbones to beautify their face and have a healthy glow.
What are the dangers ?
Cheekbone augmentation has few complications but they should be mentioned:
Bleeding

Infection

Skin necrosis (rare)
What is the procedure?
Before treatment
Medical consultation to analyze your face and propose a strategy adapted to your request.
Course of the injections
Cheekbone augmentation takes place in the doctor's office for hyaluronic acid injections.
For cheekbone lipofilling, the procedure takes place in the operating room under local anesthesia.
The aftermath of the surgery
The aftermath of the cheekbone augmentation is very simple. You may experience bruising and swelling for a few days which will disappear spontaneously.
What are the prices?
From 400 euros
The price depends on the quantity of hyaluronic acid necessary for your case.
How to plump up your cheekbones?
By hyaluronic acid injections for a result that lasts about a year or by fat injections (lipofilling) for a permanent result.
How to firm up the contours of the face?
Here are the techniques of aesthetic medicine to firm up the contours of the face:
Hyaluronic acid injections
Profhilo injections
Mesotherapy
Radiofrequency
Focused ultrasound
CONTENUS DE LA PAGE (Chirurgie et médecine esthétique Paris)