Rejuvenate and tighten the vagina with vaginoplasty
Vaginoplasty, also known as vaginal lift, is a cosmetic surgery procedure that rejuvenates and tightens the vagina to improve comfort and sexuality after pregnancy or simply as the vaginal area and perineum age.
Vaginoplasty is a common intimate plastic surgery procedure for women who experience vaginal looseness.
A vaginoplasty improves sexual function and pleasure by improving the sensation of friction and fullness. Vaginoplasty also improves the appearance of the vaginal opening and may also reduce urinary incontinence.
This medical information sheet was written in July 2020 by Dr. ABBOU and Dr. PESSIS who are cosmetic surgeons in Paris.
Before and after vaginoplasty photos in Paris
What is vaginoplasty?
A vaginoplasty is a cosmetic surgery procedure that tightens the vagina and the female genitalia. Vaginoplasty allows for an overall rejuvenation of the vagina and vulva in the same operation time.
Vaginoplasty is performed by removing excess vaginal mucosa and tightening the surrounding soft tissues and muscles and by injecting fat (lipofilling) into the vaginal walls.
During childbirth, the vagina and surrounding tissues and muscles are stretched. After delivery, the vagina may return to a more "normal" size, but it often fails to regain its pre-pregnancy diameter. Many women complain of decreased sensation and sexual satisfaction during intercourse.
We have also had many patients who experience vaginal looseness and laxity even though they have never had children. On physical examination, they have a larger than expected vaginal diameter.
The surgical vaginoplasty is performed in a clinic under local or general anesthesia. Social security coverage is possible in cases of vaginal hollowness and genital lips.
There are non-surgical treatments of aesthetic medicine to achieve a non-surgical vaginoplasty that take place at the doctor's office:
Désirial and Désirial plus hyaluronic acid injections
Vaginal radiofrequency treatment
What are the objectives of a vaginoplasty?
Tighten the diameter of the vagina
Strengthen the muscles of the perineum (area between the vulva and the anus)
Prevent and treat organ descent
Treating urinary incontinence and leakage
Treat vaginal hollowness
Improve your sex life
Improve your daily comfort
Who should have a vaginal lift?
Vaginoplasty is for women who feel that their vagina is too large, not tight enough, or loose.
This loss of vaginal tone often follows childbirth. Indeed, the passage of the baby through the vaginal canal can cause a stretching of the mucous tissues and muscles, and thus decrease the tone of the vaginal walls.
In addition, the passage of time and the menopause also lead to a decrease in the quality of the vaginal mucosa (less hydration, less elasticity), and can contribute to the sensation of a "slack" vagina. The result is a decrease in the sensations of pleasure during sexual intercourse for the woman, with a partner who may complain of a sensation of "enlargement" of the vagina.
The lack of vaginal tone can also be a source of discomfort in daily life, making it difficult to wear a tampon during menstruation, for example. Vaginoplasty allows to tighten the vagina and to obtain :
First of all a sexual benefit
Then a comfort benefit
Then a psychological benefit
What is the procedure for vaginoplasty?
Before the operation
Medical consultation with your plastic surgeon
Anesthesia consultation if surgery
Pre-operative blood test
Smoking cessation
Course of the intervention
Vaginoplasty consists of tightening the muscles of the vaginal wall in order to reduce the diameter of the vagina. The opening of the vagina is also tightened. Once this procedure has been performed, an excess of mucous membrane is often left, which is also removed.
Then fat is injected into the vaginal walls to give them back thickness and hydration. If necessary, a surgical procedure on the labia minora, called nymphoplasty, or an increase in the volume of the labia majora can also be performed to restore hydration. The procedure is performed in the operating room under general anesthesia, usually on an outpatient basis (hospitalization is not necessary).
It is also possible to perform a non-surgical vaginoplasty with hyaluronic acid injections (Desirial Plus). This is an aesthetic medicine treatment that allows to obtain a smaller diameter vagina. Vaginal radiofrequency can also be used to tighten the vagina and rejuvenate the vulva without surgery.
Post-operative care
Moderate pain for 3-4 days.
Swelling and bruising for 7-10 days.
Resumption of sexual intercourse 3 to 4 weeks later
Vaginoplasty price in Paris 
| Medical intervention | Price |
| --- | --- |
| Medical vaginoplasty |  From 800 € |
| Surgical intervention | Price |
| --- | --- |
| Surgical vaginoplasty | From 3000 € |
Vaginoplasty prices depend on the complexity of your case and whether you have surgical management in the operating room or non-surgical management through cosmetic medicine treatments.
What causes vaginal laxity?
Women frequently seek vaginoplasty after childbirth when they notice changes in their vagina.  The stress that childbirth places on the vaginal muscles, ligaments and tissues can cause changes that affect how loose or tight the vaginal canal feels. The vaginal tissue stretches to the point that the underlying muscles become loose. But there are multiple causes of vaginal laxity such as genetics, the aging process and menopause (decreased estrogen levels)
What are the advantages and disadvantages of vaginoplasty?
Benefits
The procedure tightens the vaginal canal, which increases patients' confidence in intimate situations and has increased their sexual satisfaction.
 Reduced urinary incontinence. 
Results can last 10 years or more. Although muscles and tissues naturally relax with age, they will not become as loose as they were before your surgery.
A vaginoplasty can also be combined with another genital cosmetic procedure, such as a labiaplasty or nymphoplasty.
Disadvantages
Vaginoplasty does not treat bladder or rectal prolapse.
You will have at least three to five days of recovery time and will be advised to abstain from sexual activity for at least 3 to 4 weeks.
Is vaginoplasty painful?
It is more of a discomfort than a pain. Patients describe moderate pain and a feeling of tension in the vagina that lasts a few days. We prescribe the appropriate medication to provide effective relief.
What other surgeries can be combined with a vaginoplasty?
Many women combine this procedure with others to repair problems related to the genital area, pelvic floor or anus.
Labiaplasty or nymphoplasty reduces the size of the prominent labia minora (the inner vaginal lips of the vulva).
Clitoral hood reduction reduces the folds of skin around the clitoris to improve its aesthetics and allow more direct stimulation.
Pelvic floor reconstruction treats vaginal or pelvic organ prolapse if your uterus, urethra, bladder or rectum protrude into the vagina.
What are the alternatives to vaginoplasty?
Surgical vaginoplasty is the gold standard procedure for vaginal tightening. If you are not ready for surgery, there are few non-surgical options for rejuvenating vaginal tissue, although none actually tighten the muscles.
Radiofrequency (RF) treatments like ThermiVa work by heating the vaginal tissues, which tightens them and promotes collagen growth. The treatment takes an average of 30 minutes and results in a 20-30% improvement in laxity. Results are temporary: a few months to a year.
Lasers like FemiLift, a fractional CO2 laser, can stimulate collagen, elastin and blood flow in the vaginal canal. After three to five treatments, you may feel tighter and more lubricated and have a decrease in urinary incontinence.
diVa Vaginal Therapy works in the same way. The MonaLisa Touch is a laser that treats postmenopausal hormonal problems: dryness, inflammation and pain during sex. You will probably get some tightening of the vaginal tissue.
Desirial hyaluronic acid injections reduce the width of the vagina and improve vaginal moisture and lubrication.
What is medical vaginoplasty?
This is an aesthetic medicine treatment that consists of vaginal radiofrequency sessions. The treatment is not painful. It is performed at the doctor's office with simple aftercare. Medical vaginoplasty is suitable for all women who do not wish to undergo surgery.
What is the purpose of Desirial injections during medical vaginoplasty ?
We often combine Desirial injections with vaginal radiofrequency to optimize the results of medical vaginoplasty.
Desirial injections increase the hydration and lubrication of the vagina to treat vaginal dryness. By combining the two treatments (radiofrequency + Desirial) we obtain a firming of the vagina and a treatment of vaginal dryness.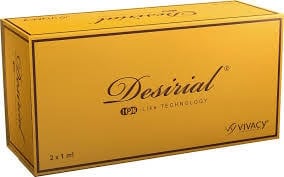 CONTENUS DE LA PAGE (Chirurgie et médecine esthétique Paris)