How to treat breast deformities?
Breast malformations or tuberous breasts are defects in the
development of the breasts:
Asymmetry of breast volume
Abnormal shape
Breast ptosis
Lack of breast development
We use the following techniques to treat breast malformations and asymmetries:
Breast prostheses
Breast lipofilling: fat injections
Breast lift
Breast reduction
It is very common to combine these techniques in the same patient to obtain the best possible result.
This medical information page was written by Dr Rachel PESSIS who is a plastic surgeon specialized in breast surgery in Paris.
Before and after photos of breast malformation treatment
What are the most common breast defects ?
Here are some examples of breast malformation symptoms:
Asymmetry of volume and shape
Tuberous breasts
Breast hypotrophy (too small a volume)
Treatment of sagging breasts
Treatment of breasts that are too large: breast reduction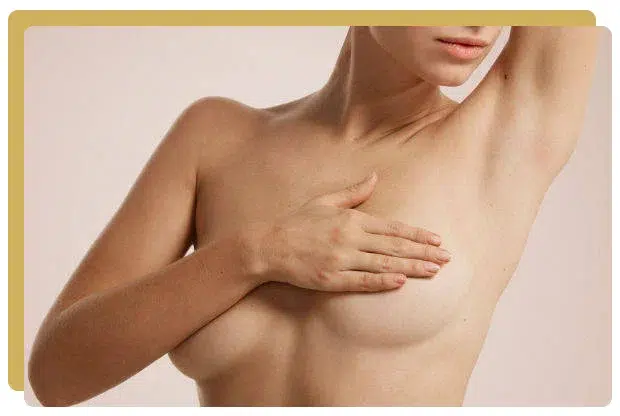 What is the definition of tuberous breasts?
Tuberous breasts are a malformation of the breasts quite frequent in the population. They are characterized by :
A tube-like appearance.

A narrow breast base

Lack of breast development (small volume)

Highly situated sub mammary folds

A lack of breast laxity (narrow skin envelope)

Large areolas that occupy a large surface of the breast.

Areolar protrusion: the areola protrudes forward

Significant difference in volume between the two breasts: breast asymmetry
Your plastic surgeon will explain this in detail during your preoperative consultations.
Typical appearance of tuberous breasts

Here the breasts present a very narrow breast base, with a "sock-like" aspect, a wide areola, a lack of volume.
These breasts present a very narrow breast base, with a "sock-like appearance", a very wide areola, a very important difference in volume.
Why have surgery for a breast deformity?
The objectives can be multiple:
Increase breast volume
Breast reduction
Improving breast symmetry and symmetrizing them ideally
Improve the shape of the breasts
Reduce the size of the areolas
Breast deformity surgery is intended for patients who present :
a significant difference in volume between the two breasts
little or no breast development
An unattractive breast shape
All about breast deformity surgery
Before breast surgery:
Two medical consultations with your plastic surgeon
Anesthesia consultation
Smoking cessation
Pre-operative check-up and mammogram
The procedure takes place in the operating room under general anesthesia.
Your cosmetic surgeon will be able to propose you according to your case:
Adding volume to treat the lack of breast development through the placement of breast implants 
Reshape your breasts to make them symmetrical or lift them up with a scar around the areola or a vertical scar.
Fat injection or lipofilling to symmetrize the breasts in mild cases.
In most cases, the treatment of tuberous breasts and breast deformities is based on a combination of these different techniques.
After your procedure, you will experience moderate pain for a few days. Bruising and swelling will be present for about two weeks.
Wearing a support bra is very important for 4 weeks in order to optimize your result.
A 15-day postoperative convalescence period is necessary.
The stable result will be appreciated 3 months after the surgery.
What are the fees for the treatment of breast deformities?
| Surgical procedure | Price |
| --- | --- |
| Treatment of breast deformities | From 3 500 € |
Social security coverage is possible in most cases after approval by the consulting physician.
The fees of the surgeon and the anaesthetist are to be paid in all cases. You may be reimbursed according to your health insurance contract.
Which scars for the treatment of breast deformities?
For a breast augmentation with prostheses, there is necessarily a scar that is placed in an inconspicuous area. The scar is placed around the areola or in the fold under the breast (under the breast)
To lift or reduce sagging breasts, there are scars in the shape of an inverted T that are visible for several months before gradually fading.
CONTENUS DE LA PAGE (Chirurgie et médecine esthétique Paris)